The Mopar 10 Registry's June 2012 Mopar 10 of the Month honors go to John and his "1 of 1 Hurst M10" #161.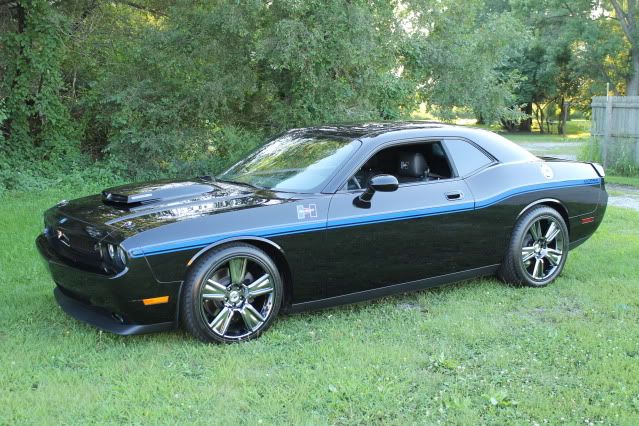 While most of us have pretty interesting stories as to how we came into ownership, this one is definitely unique.

John works at Bosak Motors up in Indiana. Unlike a lot of dealerships that stick to the bread and butter formula for mediocrity, Bosak strives to relive that Scat Pack excitement from the muscle car hey-day. Priding themselves as the "Home of the 24/7 Car Show," they usually have 30+ Challengers on the lot at all times….some of our dealerships are lucky to have 3-5 on the lot at some times.

All in all, that should make for a pretty kick ass place to work…I believe John would agree.

Back in June of 2010 fate just happened to put John on the other end of a conference call announcing the planned production of the 500 US Mopar 10s. Not one to worry about job security when unprecedented opportunity knocked, John scurried out of the conference call room and went straight to the order bank.

He proceeded to order a red stripe automatic, a pretty basic blue striped 6 Speed, and a fully-loaded blue striped 6-Speed marked as "SOLD" in the name of the owner's daughter… Wait, what?! Yep, you read right…the owner's daughter. This is like working for the Dallas Cowboys, getting privy to a great deal, and then taking a bit of initiative and telling the presenting company that one is for Jerry's wife…Unbelievably risky, a bit crazy, but 100% BRILLIANT!

The logic isn't as spur-of-the-moment as you might think…John knew he wanted the car, knew he had to act quick to snap up what would be essentially 1/6th of some percent of 500, and he had to unload his 40k mile survivor 1979 Trans-Am to finance the M10.

The next few weeks must have been nerve-wracking for John…Not only was there the chance this thing could blow up in his face, but there was also the polar opposite outcome…what if Dodge didn't honor the builds?

Well, as fate would have it, they didn't just honor this one, they honored all 3 for the dealership and the Dodge rep had even personally called Skip Bosak to investigate the pre-sale to his daughter. This is where John fessed up and came clean about his plans. Although he didn't provide the reaction, I assume his boss enjoyed it as he is still employed, the car was as good as sold, and it never hurts to know your employees are truly wrapped up in the craft!

Fate once more intervened as shortly after judgment day, John heard a call from Doc Watson to Nate Shelton at Hurst Performance Vehicles about a special production Challenger that was to have a Hurst Shifter. Doc was of course talking about the Mopar 10 and since John and Nate had done a show together not long ago, things began to spiral…

Halloween 2010 was the day John's Mopar 10 came to town. In the meantime he had changed all the paperwork from Skip's Daughter to his own name and had begun collecting all the factory literature and information on the car he could…That information is now in a binder 3" thick. Sadly, Halloween is basically a turning point in Indiana…the weather turns, roads get icy, and nice cars usually get garaged.

While still enjoying the newness of the Mopar 10, John was off in November to SEMA in Las Vegas. Dodge had a Mopar 10 in their booth that year and Nate was quick to ask John if he had any plans to utilize Hurst components in his car. Being a true M10 Owner, John was pretty hesitant about modifying such a rare car, but was open to discussing some ideas. Back home he e-mailed a few of them to Nate and a couple of days later had a call from Tony Baumgartner the VP of Sales at Hurst to let him know they had green lighted it with Nate's original promise to a skeptic John of making a "One of One Hurst M10."

Things lined up and the 1 of 500 Mopar 10 slowly transitioned to the "One of One Mopar 10" he and Nate discussed. Here is the rundown from John himself, " In the months to follow, the car received Hurst Eibach lowering springs, Hurst Headrests, Hurst floor mats, another Hurst shifter, Hurst AirSpeed Rear spoiler, Hurst grille badge, Hurst Fender decals, Black Chrome Hurst Wheels and BFG 20X9 and 20X10 tires, catback exhaust system and a Hurst Dash plaque that says "Hurst M-10 #1 of 1". All Hurst emblems and logos were done in Blue/Black rather than the traditional Hurst colors. A Hurst Certificate of Authenticity and a special note and drawing from the Hurst team was also included. The car was later treated to a set of Mr. Norm's Garage LongTube headers, high flow cats, diablo tune, Mr. Norm's dyno tune and had the trunk lid signed by Mr.Norm. The RWHP is 357 and TQ. was 388lbs. The car was also signed by the Dodge Rep, Martin Wilson as the 'First Mopar 10 in Indiana.'"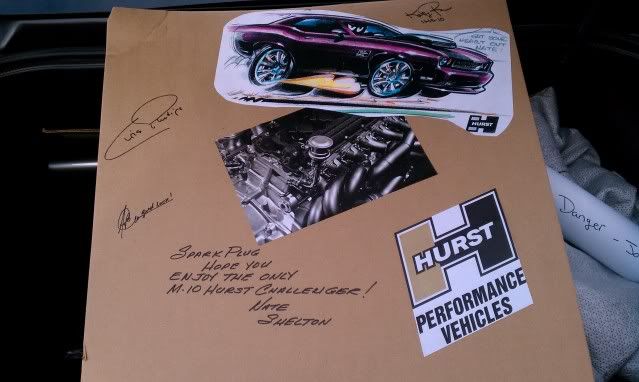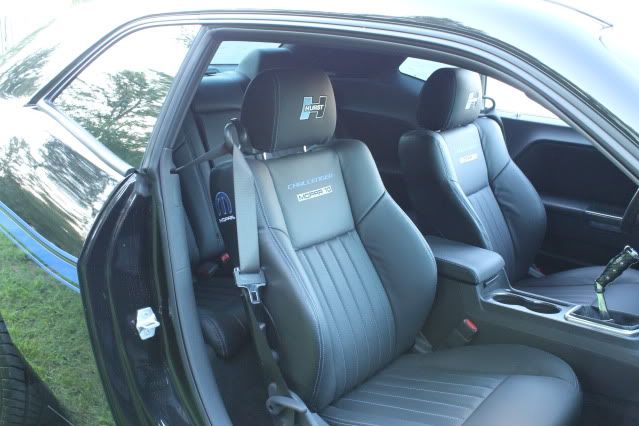 With that, John turned his 1979 Trans-Am and hope-and-prayer tactic into one truly slick, one-of-a-kind Mopar 10. As you might expect, with the unique pedigree and documentation, John's "Hurst Mopar 10" was featured in Mopar Magazine and Chrysler Power just this past month.




In an unexpected twist (can you really say you didn't expect a twist at this point?), John and the Hurst M10 parted ways. Bosak picked up a 2012 Header Orange6-Speed SRT8 with Silver Stripes (John didn't even order it in!), and he traded the Mopar 10 for the 2012 SRT.
John's New Ride, Header Orange 2012 SRT8: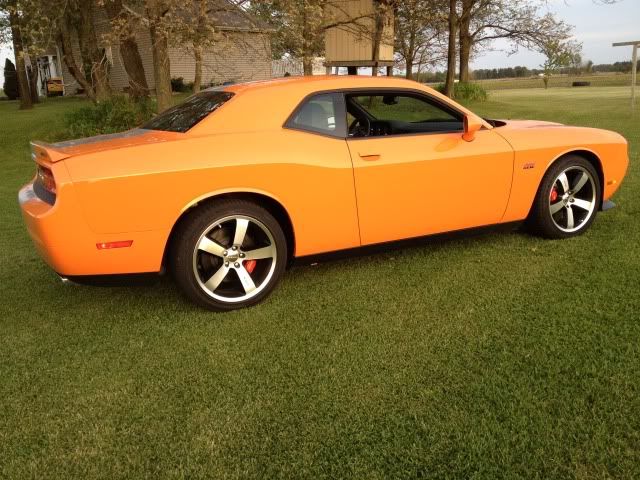 Father and Son Combo, John and His Dad's 2012 SRTs:



There is no need to scold the guy…he loved the Mopar 10, took it from unique to extraordinary, and simply came across another car he couldn't live without…And hey, the 2012 has the 392 that I have said our Mopar 10s should have had all along!




John confessed he has taken plenty of crap from his friends, but the way I look at it, it isn't that bad. He kept the car in great shape, has one heck of a story, and has pictures and documentation from pre-order to trade-in of the amazing story of the "One of One Hurst Mopar 10."

With myself being into old school Mopars just as much, if not more, than the modern day offerings I will tell you right now…this is the stuff legends are made of. Remember the 68 Roadrunner that had the factory defect 383 that was replaced with a 426 HEMI…people scoff till the old man pulls out the paperwork, purists mine for the tag, and everything is confirmed to all but those who will never be satisfied. There are crazy stories from the 60s and 70s Mopar hey-day and this one ranks right up there with them. The difference is this just happened. We are living, writing, and reading the story that John, a few friends, and fate penned for this Mopar 10. Years from now, the binder may be lost by a subsequent owner, no one may turn up the Mopar Magazine article, but perhaps this Mopar 10 of the Month write-up will prove to shed some light on what could be a vague circumstance.

It is rare you get to feel you are a part of history, but with the ground breaking introduction of the Mopar 10, the first ever Mopar branded vehicle, and the incredibly unlikely set of circumstances that came about to produce this "One of One Hurst Mopar 10" we should consider ourselves lucky…maybe someday those of us that are part of the Mopar 10 Registry can come to bat for John or provide these insane details to someone trying to figure out why their shifter is different than other Mopar 10s.

John may have parted ways with his Mopar 10, but he will forever be linked to the car as the original owner, and the guy responsible for putting it all together...who knows, maybe someday he will be reunited with the car.

Congratulations to John, a true gear head, and the by-product of his position with Bosak Motors, the "One of One Hurst Mopar 10"…it is one sweet ride and one hell of a story!