Our April 2012 Mopar 10 of the Month Honors go to Brian and his Blue-Striped Automatic, M10 #346.
Brian has been torn between calling his M10 by number, 346, or name Irene.  Why Irene you ask?  Well that is a story in and of itself…
Brian had been pedaling around in his Dodge Ram and as he'd pass through town or head to work he'd always notice the sports cars running around.  The mustangs, as with most places, were a dime a dozen and the camaro, well it is a camaro…
What always turned Brian's head was the new Dodge Challenger.  You don't see them scatter like cockroaches when lights turn green (cough, mustang, cough) and  unlike the camaro the Challenger has great lines and unmatched styling.  He finally knew the suspense wasn't healthy and decided to genuinely pursue his new Challenger.
While skimming the net, Brian fatefully stumbled upon the Mopar 10:
Need I say more?
With just one look, Brian (like so many of us) was hooked.  He decided he wanted a blue-striped Mopar 10 and Sound Group II.  Automatic or Manual Transmission…well, Brian knew with only 500 floating around the states he'd likely take what he could find.
He went back to the dealership he had purchased his Dodge truck from and they located #346 on a lot in North Carolina.  She had only 1,100 miles and I'm sure someone is still regretting trading her in…
Mopar 10…Check.  Blue Stripe…Check.  Sound Group II…Check.  It was a done deal.  The dealership was great to work with and lined everything up.  Coming from a certified dealer in NC, Brian would even get the warranty to transfer over.  As an act of kindness the dealers lined things up to get the car to Connecticut with the taxes and registration taken care of… However, not all things go according to plan.
Remember how Brian debated calling his M10 Irene?  That would be named after Hurricane Irene…the Hurricane Irene that had every chance to wash his Mopar 10 into the Atlantic, but spared her.
You see, the dealership in North Carolina was located right on the coast…the location that is fantastic until that storm surge washes in and ruins electronics and offers up the never ending ocean funk smell for your interior.
Naturally, the transaction went down right before landfall.  Brian and the dealer in Connecticut tried to get status updates on the car.  Was it in transit, or was it waiting to be washed out to sea?  There was no answer…likely due to everyone being dedicated to moving inventory or just not having power etc.
Brian had a trip slated for Maine…4 hours north of his home base.  He expected to get back to Connecticut ahead of Irene, but as usual, Mother Nature loves to prove forecasters wrong.  Amazingly, his Mopar 10 showed up at the dealership Friday…they called and wanted him to pick it up before the storm.  That would have been great if Brian had not been riding shotgun and in Maine.
With landfall in Connecticut slated for Sunday, Brian knew he had to get back home and to the bank..afterall, the M10 is a hot ticket and if someone were to see it on the lot with cash in hand…you know how it goes; money talks.
As fate would have it, Brian was able to hitch a ride back to Connecticut on Saturday before the banks closed.  This let him get his down payment to the dealer just in time…just in time for the storm to hit and knock power out.  This basically crippled the deal for the weekend.  Brian had succeeded in wrapping the car up, now he just had to nervously ride the storm out.
With a second chance to riddle the Mopar 10, Irene once again spared car #346.
Later in the week, when power was back on, the dealer completed the transaction and Brian proudly drove home in his Mopar 10.  Now the only time his blood pressure rises is when he gets in the car!
The previous owner had tinted the glass and lowered the car a bit.  This gave Brian a great canvas to work with.  He set out to tackle a few aesthetics.
His Mopar 10 boasts its' heritage with a Mopar 11 Grille Badge, Mopar Valve Caps, and a Billet Tech ID Plate with Car Number and Born on Date.
Under the hood you'll find a slew of Billet Tech Blue Dress Up Items: Fuse Box Cover, Beverage Deletes, Catch Can, Strut Covers, and Matching Nuts…This is all displayed via hood struts: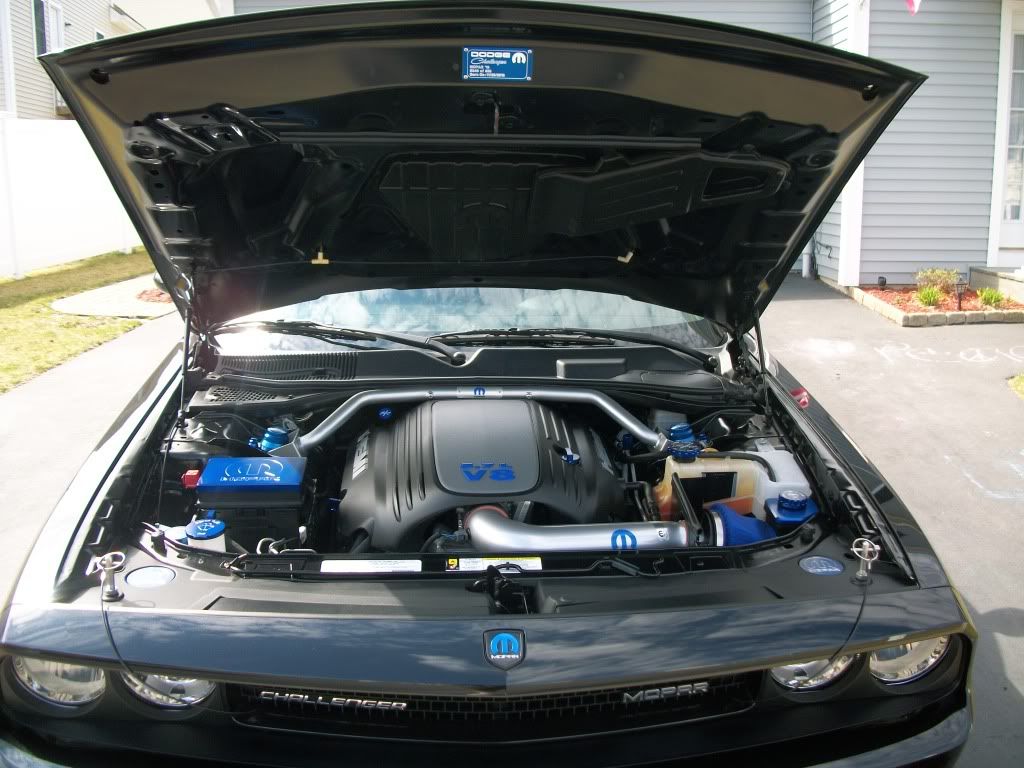 Inside you'll find even more Billet Tech items: Blue Shifter Plate, Lighter Delete, Cup Holder Bezel, and Door Sills:
Outside, Brian has smoked the side markers for a stealth look, wrapped up the black with some Gorilla Locking Lug Nuts, and treated the factory calipers to a coat of G2 Blue Brake Caliper paint: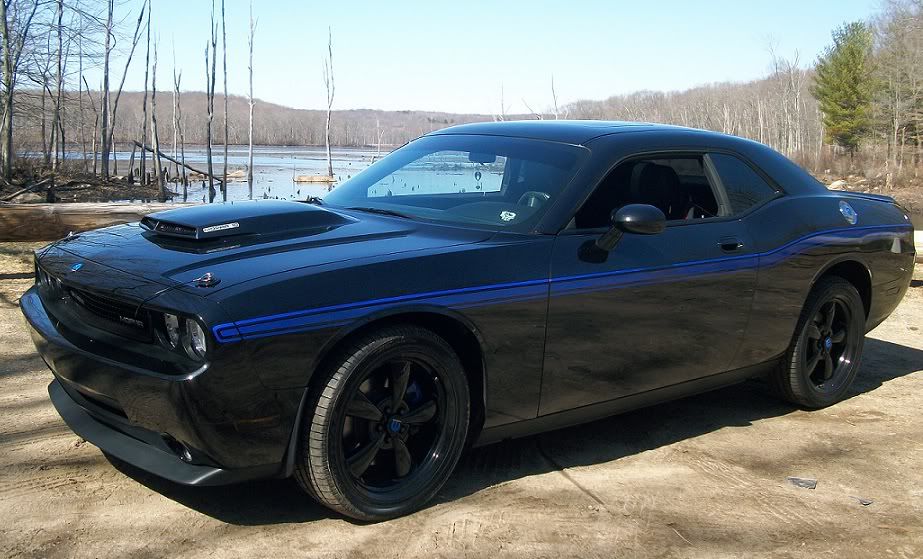 Performance wise Brian has the aforementioned Mopar Catch Can, an American Thunder catback from Flowmaster,  and a custom overhead console sporting Dual Aeroforce Scan Gauges (naturally blue with the black bezel) to monitor the vitals:
All of the mods Brian has made can easily be reversed should he ever want to return the M10 to original.
His future plans are to get the car to a dyno and he is considering a custom tune as well.
Brian has only gotten to enter a few shows and hasn't brought back any hardware just yet.   However, just as Mr. Gilles and Mr. Gorlier stated in the Mopar 10 Owner's Letter, these cars are truly a one man car show:
Brian and M10 #346 "Irene" are testament to that as Brian simply put it, "I am still amazed every day I drive it and love the car.  The best part is every time I have her out I get so many looks and people walk up taking pictures and ask me questions…which is better than any car show trophy.  It's really like a car show every day."
And with that, you can see the affinity Brian has for his Mopar 10 and why his car is our April 2012 Mopar 10 of the Month!  You can sign up on the Mopar 10 Registry Forum and leave Brian comments here:
http://www.lonestarmopars.com/mopar10/forum/viewtopic.php?f=30&t=77
***
If you are a Mopar 10 Owner, we invite you to join us on the Mopar 10 Registry.  Our goal is to document all 500 US and 100 Canadian Mopar 10s.  The Registry is 100% FREE and seeks to organize gatherings at local and regional levels for all M10 Owners.
If you are interested, please e-mail us, or sign up on the Mopar 10 Registry Forum: http://www.lonestarmopars.com/mopar10/forum
You can find links to the M10 Forum, Facebook, Twitter, YouTube, and more on our home page: