It isn't often that someone gets a chance to relive the past.  Too many times you part ways with a car and never get to live down the regret, much less buy it back…
That didn't happen here either.  However, for AAM Member Tom and his 2010 B5 Blue Dodge Challenger R/T it is even better.
Jump back 30 years and Tom was stationed in Hawaii.  Any true Mopar fanatic can't rest content with a brand-x convertible, so Tom piloted a 1970 B5 Dodge Challenger T/A.  The 340+6 mated to the 4-Speed was perfect for cruising the island: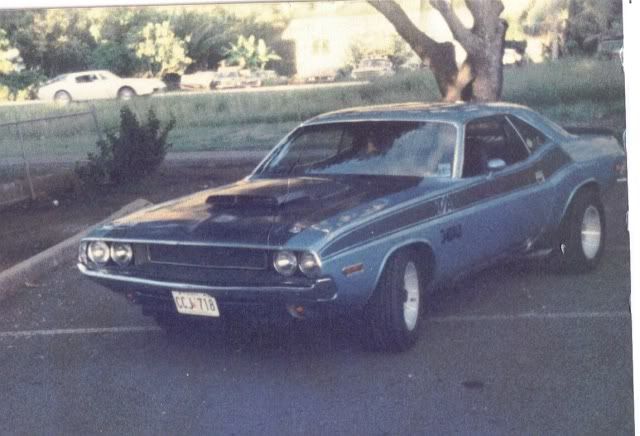 As time passed and Tom found himself back in the continental states he picked up a c6 corvette.  However, he got tired of squeezing in and out of the vette and it just didn't seem practical for daily use.  Tom is a practical guy and he gave the each make a chance to win him over.  Where the Camaro and mustang failed to impress, the Challenger delivered.  The late model Dodge Challenger offered the size, performance, and the throwback styling was hard too top…even if we were dealing with something more intimidating than a mustang or Camaro.
With that said, Tom went to the dealer and gave him three must haves:
B5 Blue
6-Speed Transmission
Sunroof
One week after issuing the criteria, Tom proudly drove off in his 1970 Dodge Challenger T/A, I mean 2010 Dodge Challenger R/T: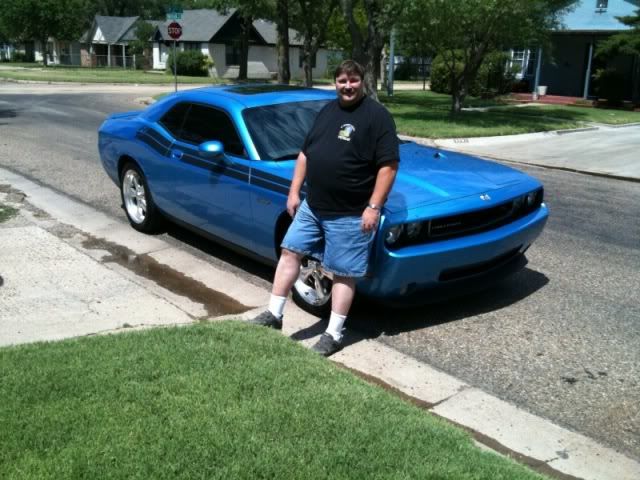 The catch here is Tom isn't stopping with what the factory produced, oh no…he has done quite a bit to his Challenger and has even more to come.
Tom is styling this Challenger along similar lines to his 70 T/A.
The first issue of business was sourcing Scat Bees for the side glass…the freshly tinted side glass!  With that done, things got a bit more complex.  Tom popped for a Cervini's Shaker Hood and buttoned it down with Mopar Hood Pins.  The perfect choice for the modern day recreation was the application of the Ridergraphix T/A Style stripe.  These really set the car off from other Challengers and to balance out the Shaker, Tom placed a SRT Rear Deck Spoiler out back, complete with custom HEMI R/T badging…similar to his 345 HEMI badging on the Shaker, and the large blue R/T Grille Badge.  As if Tom needed anything else to set his car apart, the sequential tail lights will let you know that you are in fact behind a modified Challenger.
Another stealth feature is his pop-out license plate.  Just as many of us cringe at drilling holes in the front bumper cover, Tom couldn't bring himself to do that…so, he sourced a high-end, motorize license plate that conceals in the lower grille when not in use.  Very trick!
With the base aesthetics out of the way, Tom treated the factory tune to a makeover via the Diablo Trinity.  And as you might have guessed, the Trinity is a stepping stone to greater things to come.
Tom had his Shaker modified to clear a Magnacharger.  You can look for his B5 Chally to sport the forced induction, BT Catch Can, and a new tone thanks to a Corsa catback in the near future.
Why not now?  Well, as with any good gearhead, Tom has temporarily postponed the supercharger to pick up a 2011-2013 AWD Charger or SRT8.
Tom has not taken the car to the track yet, but I'm sure we'll be seeing a B5 streak tearing up the asphalt in the near future.
Staying busy, Tom hasn't gotten to enter many shows, so that first win is currently evading him…I would look for that to change the first time he enters a show this year.
This is a great story of getting the best from both worlds.  Tom's 2010 R/T sports the look and sinister attitude of his 1970 T/A, but with all the modern day creature comforts you could want.   The late model Challenger R/T gave Tom the canvas he needed to recreate his original T/A and he did a great job.  The black on blue really sets the car off and it is one of the best modified Challengers roaming the streets of Amarillo.
Congratulations to Tom and his 2010 B5 Dodge Challenger R/T, our April 2012 Mopar of the Month!