Check it out:
http://www.mopar10registry.com/2012/05/ ... hirts.html
The Official Mopar 10 Registry T-Shirts are finally here! I came up with a design that would work, it got pretty good feedback, and I was able to find someone locally who will make them to your spec AND ship anywhere. Lots of things lined up just right...kind of like the M10!
Anyway, here is the link to where you can purchase them:
http://bubbastees.auctivacommerce.com/M ... x?sid=6185
Here is some basic info on the shirts:
T-Shirt: Jerzees Heavyweight Blend
Sizes: Youth-Adult
Care Instructions: Washing and Drycleaning up to 180 Degrees. Turn inside out before washing. Tumble Drying is not recommended.
Quantity: No Minimum (Buy One, Two, or a Hundred)
Cost: $16.99
Custom Colors: Blue, Red, or Silver
Custom Options: Your Car Number
Designed by: TexasStroker
Sold by: Bubba's Tees
Contact Info for Bubba's Tees:
Phone: 806-367-6620
Toll Free: 1-888-603-4247
Website:
http://www.bubbastees.com
M10 Shirts:
http://bubbastees.auctivacommerce.com/M ... x?sid=6185
A few pictures:
Design 1 "HEMI" Text: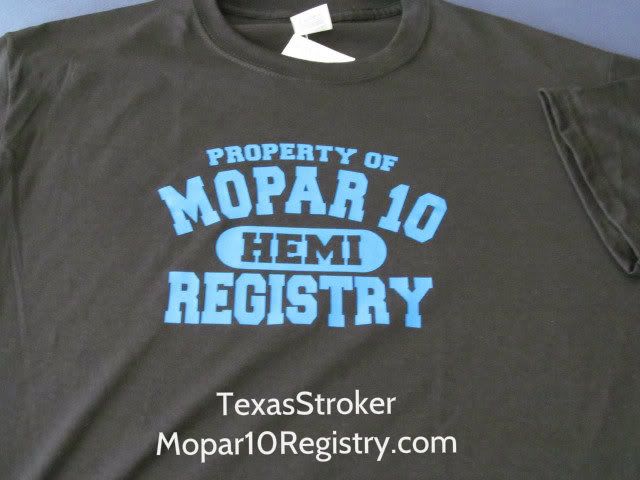 Design 2 "Your Car Number" Text: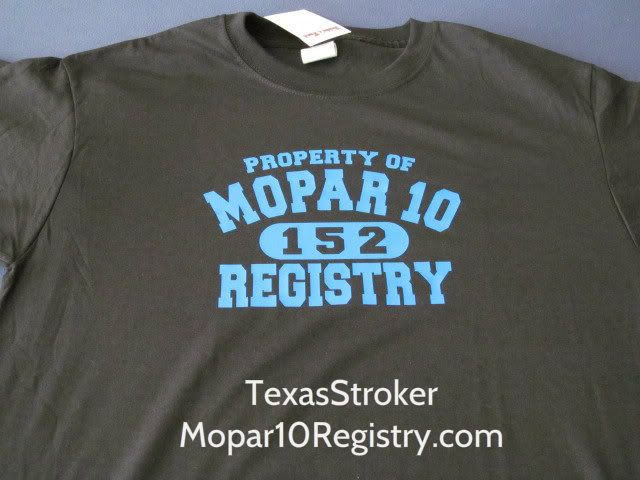 Back Design, Slogan and URL: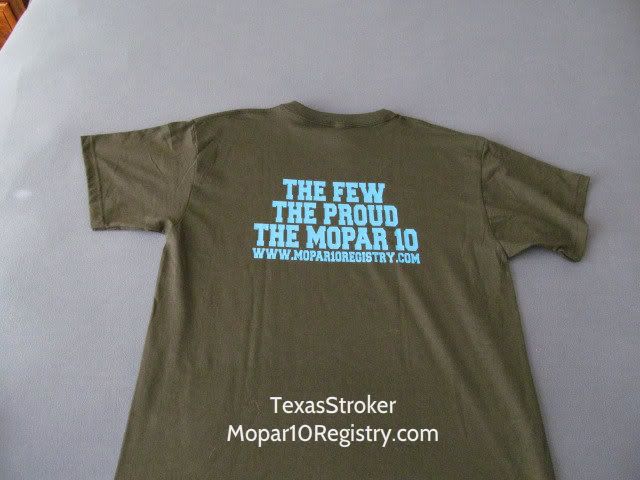 Black Shirt, Red Text and Red Sign:
Black + Silver Sign:
Video: Good Look at Both Shirts, the quality, shirt care, size, etc. I also used it as an opportunity to highlight the Mopar 10 Registry